DEAD EIN GEDI SPA
Ein Gedi Spa is a Famous SPA on the Shore of the Dead Sea
Ein Gedi Spa is a wellness center on the shores of the Dead Sea, at the foot of the Judean Hills to the west, facing the Mountains of Moab to the east, Israel. Nature has created thermo-mineral springs with healing properties found nowhere else, fed by the waters of the Dead Sea. It provides treatment by the four elements of the area: water, air, sun, and mud. The spa has hot pools that are filled with sulphur water. The temperature of the water in the Ein Gedi Spa is a constant 38 C. The Ein Gedi Spa has a bathing beach with lifeguard, sunshades and wooden benches. Here, where the sun shines 300 days a year, the sun is kinder to your skin than anywhere else in the world. Ein Gedi Spa is a famous attraction on the shore of the Dead Sea.
Minerals are natural compounds that are essential to your body's health and balance. The Ein Gedi Spa has the highest percentage of bromine in the world, both in the air and in the water. This reduces blood pressure and relaxes the nervous system. The springs at Ein Gedi are rich in sulfur, magnesium, calcium, sodium and potassium. These minerals deep penetrate and detoxify the blood stream. A massage after bathing in the spring water is a wonderful ultimate luxury. The black mud, sold worldwide as a very effective cosmetic treatment, is available at the Ein Gedi Spa naturally and directly from the source. The contact between the mud and skin creates a unique sensory experience. In addition the mud absorbs toxins, invigorates circulation and strengthens hair.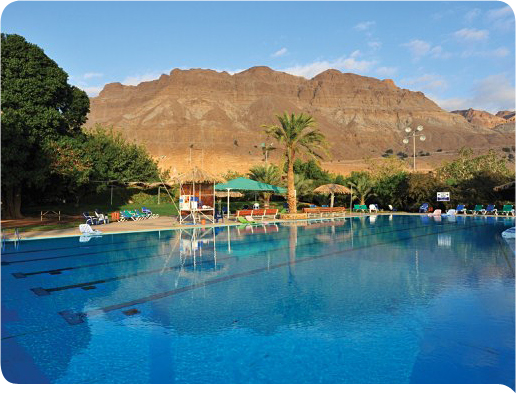 Need more information?

Hello, !

Thank you for your inquiry.
One of our team members will be contacting you within the next business day.
Noah Tours Sales Team
Wrong security code.
Message was not sent.