TEL AVIV PROMENADE
Tel-Aviv's Promenade is a Delightful Place for Walk


The Tel Aviv Promenade During the Day Light
Tel-Aviv's Promenade, or Tayelet, as it is called in Hebrew, is a wonderful place to walk on along the Mediterranean seaside. This promenade begins at the Tel Aviv Marina just north of Gordon Beach. It proceeds over four kilometers through sections named the Shlomo Lahat Promenade and Charles Clore Park to the port of Old Jaffa. During the day you can see the clear blue sky and the blue-green sea where people are swimming and playing beach ball and sunbathing under hot Mediterranean sun.

Tel-Aviv Promenade at Night
The uniqueness of the Tel-Aviv Promenade is especially felt at night. If you have a walk along the Tayelet after the sunset, you will see it is full of a night life of a typical coastal city. The heat of the day is replaced by the coolness of the night that attracts dozens of Israelis and tourists out to the promenade. People are enjoying evening street preformances in the summer.

Cafes and Restaurants at the Tel Aviv Promenade
The numerous cafes, restaurants and bars along Tel-Aviv Promenade come to life with twilight. They are beautifully and cozily lit, and inviting you into going in to sit near the Mediterranean Sea with a glass of your favourite drink. The other side of the Tel-Aviv promenade is not least exciting as the one close to the shore. It is the side of the hotels and of various cafes and pubs, where you can relax eating a gourmet meal with a glass of Israeli Cabernet Sauvignon and hearing some Jazz music in the background,or live rock music late at night, which you can enjoy with a glass of beer like Guinness or Kilkenny from a barrel.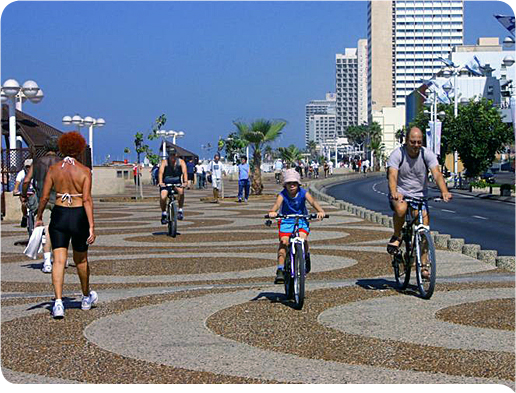 Need more information?

Hello, !

Thank you for your inquiry.
One of our team members will be contacting you within the next business day.
Noah Tours Sales Team
Wrong security code.
Message was not sent.