HAIFA BA'HAI GARDENS
The Bahái Gardens in Haifa and Akko
The Bahá'í Gardens in Haifa and Akko visit more then half a million guests and these sites are among the most popular sites in the Middle East. Their unique design, combining geometrical shapes and refined detailing with loving conservation of natural and historic landscape features, leaves an unforgettible impression on visitors. In July 2008, the Bahá'í Gardens in Haifa and Akko were inscribed on UNESCO's World Heritage List, in recognition of their "outstanding universal value" as holy places and places of pilgrimage for the followers of the Bahá'í Faith.

The Bahái Gardens in Haifa
These gardens, located in the heart of Haifa, include a staircase of nineteen terraces extending all the way up the northern slope of Mount Carmel. The golden-domed Shrine of the Báb, the resting place of the Prophet-Herald of the Bahá'í Faith, stands on the central terrace, looking across the bay towards Akko. While different parts of the gardens offer a variety of experiences, they speak in a common language of graveled paths, hedges and flower beds groomed and nurtured by dedicated gardeners. The gardens frame panoramic views of the city, the Galilee Hills and the Mediterranean Sea.
The Bahái Gardens in Akko



The gardens at Bahaí in Akko form a wide circle surrounding the historic mansion where Bahá'u'lláh, the Prophet-Founder of the Bahá'í Faith, resided during the final years of His life and the shrine where His remains were laid to rest. The approach to the circular garden is a long, straight path framed with cypress trees and informal plantings. As you walk, the silence seems to grow in intensity. Entering the heart of the site is like arriving in a world of peace and serenity, a wall-less sanctuary that is protected without being enclosed.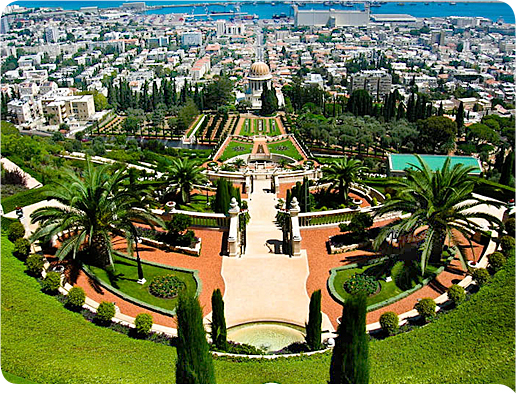 Need more information?

Hello, !

Thank you for your inquiry.
One of our team members will be contacting you within the next business day.
Noah Tours Sales Team
Wrong security code.
Message was not sent.