ISRAELI CUISINE
POPULAR MEALS IN ISRAEL
Israeli cuisine is as diverse as the population which makes up this gastronomic country. Food here is generally of a very high standard, and immigrants from around the world mean that almost every genre and type of food is available.
HUMMUS
Hummus is a unique culinary delight in the Middle East and in Israel; it is an official art form. Hummus is a mixture of ground chickpeas, sesame seed, lemon and garlic. Served with freshly baked pita bread, a hard boiled egg, raw onions, a side of warm chick peas and at times, a side dish of lemon juice and garlic mixture, it practically represents its own food group.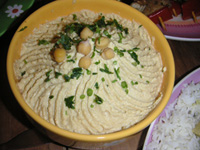 FALAFEL
Even if we, the Israelis have adopted the falafel as a national dish, it is not at all ours. It comes from the Egyptians, made with dried white broad beans, or from the Lebanese, Syrians and Jordanians made with chickpeas. It is usually served inside a pita bread with hummus-chips-salad and tehina. A selection of more salads is usually available, and you can fill your pita with as much as it can take.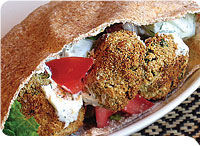 SHAWARMA
Shawarma is a sliced turkey or lamb meat, also served inside a pita, or its larger cousin lafa, with hummus-chips-salad. Many other things can fit your pita: for example, Me'orav Yerushalmi (Jerusalemite mix), which contain several types of meat, or Schnitzel, a batter fried chicken breast somewhat inspired by the Viennese original.
ST. PETERS FISH
As far as a visitor consuming a fish that's synonymous with Israel, it has to be the Tilapia, better known as St. Peter's fish. Its name comes from a New Testament reference to when Jesus' follower Simon Peter had no luck fishing, he told him to cast his net again, and it came up full of fish.

Need more information?

Hello, !

Thank you for your inquiry.
One of our team members will be contacting you within the next business day.
Noah Tours Sales Team
Wrong security code.
Message was not sent.