TRANSPORTATION
External and Internal Types of Transportation in Israel

By Plane
Coming to Israel you can land either in Tel Aviv at Ben Gurion International Airport, which is located approximately 40 km from Jerusalem and 12 km from central Tel Aviv or in Eilat at Ovda International Airport. Several companies provide internal flights between Eilat and Ben Gurion Airport, Sde Dov Airport in north Tel Aviv, or Haifa.

From the airport to Jerusalem, take bus line 947 (7:00-21:00, every 20 minutes, 20 NIS). To Tel-Aviv and the rest of the country, take the direct Tel-Aviv train (3:53-23:23, every half an hour during day, every hour during night, 12 NIS). From Tel-Aviv to other destinations, continue by train or bus. Note that neither train nor bus service is available on Shabbat (Friday afternoon to Saturday sunset). Taxi service is also available, though not particularly cheap. A better option is a shared taxi, or sherut - these are available outside the airport terminal.
Leaving Israel note that arriving at the terminal at least three hours before your flight is well advised, as Israeli security procedures can be time-consuming.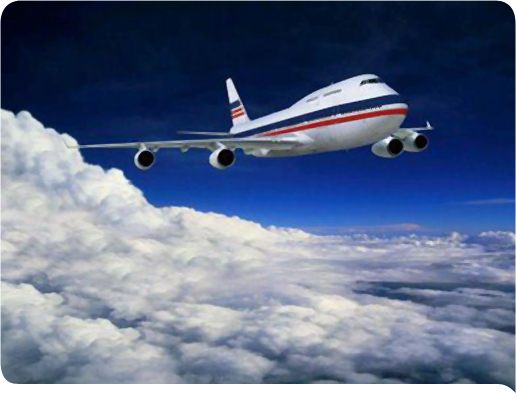 By Boat

Many cruise ships call at Haifa and Ashdod on the Mediterranean, as well as at Eilat on the Red Sea. There is also a regular ferry service linking Cyprus and Piraeus (Greece) with Haifa.
By Road
Tthere are land routes from both Egypt and Jordan to Israel. Jordan has three crossings with Israel: the Allenby/King Hussein Bridge (the shortest way between Amman and Jerusalem, the busiest crossing); the Jordan River (in the north); and Arava\Yitshak Rabin (2 km from Eilat). From Egypt you can cross the border at the Taba Border Terminal, near Eilat. From the terminal to Eilat, take bus number 15, or a taxi. The terminal is open 24 hours a day, 7 days a week, with the exception of Yom Kippur (The Day of Atonement) and the Muslim Feast of Sacrifice. Israeli rental cars are not generally permitted across the borders for insurance reasons; in addition, it may not be advisable to travel in Arab countries while displaying an Israeli number plates.


Get Around
Israel is a small country, and it is therefore easy to get from one place to another in a relatively short time. Public transportation is convenient, and you can get to almost any destination for a reasonable price.In getting around Israel, be aware of the Sabbath: from Friday sundown to Saturday sundown, train and bus services are not available in Israel (except in Haifa and Eilat, and limited sherut services - shared taxis, see below). Unless you have a car, or are willing to pay for a taxi (not shared), if you're daytripping on a Friday, you should start thinking about how to get back by noon at the latest, and you should plan on staying near your lodgings on Saturday.


By Bus
Buses are the most common form of public transportation for Israelis and travellers alike. They are cheap, fast and reliable. Egged, public transport operator in Israel and operates most of the intercity bus lines, as well as the local service in most of the large cities and towns. Local and intercity transport in the Gush Dan area (Tel Aviv and the surrounding suburbs) is provided by the Dan Bus company. Bus service in Be'er Sheva and Nazareth is provided by private companies. The fare for all bus lines is reasonable, the busses are comfortable and usually air-conditioned, and there is regular, frequent service. Tickets can be purchased at the ticket booths in the central bus station in each city or town, or from the driver.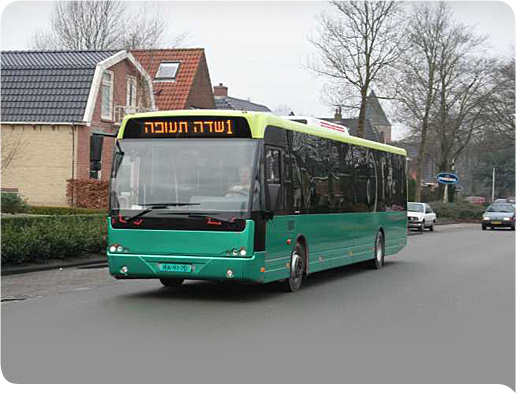 By Train

One of the best advances in transport in Israel in recent years has been the modernisation of the train system. Israel Railways operates convenient, inexpensive train service. Trains run 2-3 times per hour in peak travel times and at least once an hour at off peak hours. Trains on the Nahariya-Haifa-Tel Aviv-Ben Gurion Airport line run through the night too. Note, however, that after midnight trains stop in Haifa at the Bat Galim station only, and in Tel Aviv at Merkaz (Central). All other Tel Aviv and Haifa stations close after midnight. One must also remember that trains operate only on weekdays.
By Sherut

Faster than normal buses are minivans, known as monit sherut or "service taxi", that generally follow major bus routes but can be hailed from anywhere. They are usually somewhat cheaper and somewhat quicker than buses, their operations hours may be longer - and maybe most importantly, in many cases the sherut runs 7 days a week, including on Shabbat.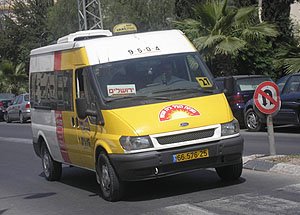 Taxi

Taxis are very common in Israel. The driver should use the meter both inside and outside cities (in Hebrew, moneh), unless the passenger agrees to prefix a price.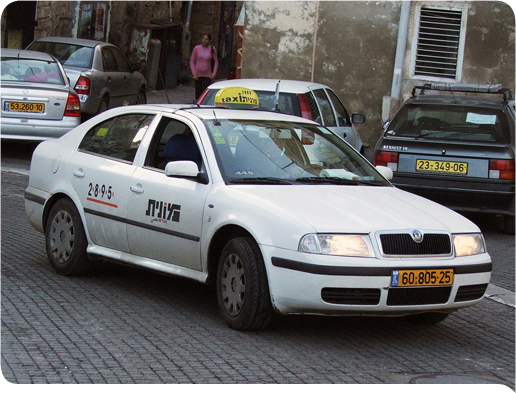 Car Rental
Renting a car is one of the easiest ways to travel in Israel, distances are short, and compared to major European cities it is quite easy and cheap to find a parking spot for your car – especially if you are staying at a hotel. To rent a car is possible in the most international or local offices of the car rental, which you can find in the large cities and at the airport. The most recommended way is to reserve in advance before you arrive. In order to rent a car in Israel the driver should be over 21 years old, and must carry a valid international driver's license.
contact us

Hello, !

Thank you for your inquiry.
One of our team members will be contacting you within the next business day.
Noah Tours Sales Team
Wrong security code.
Message was not sent.