14 Israel Tour Essential Insider Travel Tips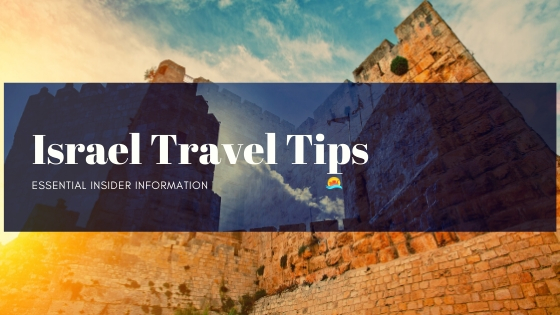 If you are planning on visiting Israel, don't miss our Israel travel tips! Rather than having to do your own research, our team set out to answer the most common questions travellers tend to have.
1. Is it safe to travel to Israel?
Is Israel safe? The simple answer is yes. Like any country, Israel has neighborhoods and cities that are considered unsafe. Think of your own country and how there are some places you won't go to, although you will go to other places instead. Israel is the same. Noah Tours follows the guidelines of the Israeli Ministry of Tourism as well as the local police departments. As a big part of Israel's economy comes from the tourism industry, Israel ensures that the safety of all visitors is a top priority. Additionally, if the tour guide feels that slight changes need to be made while you are on the tour for security purposes, he or she will of course do so. Israel is also a very solo female traveler friendly country. People are generally respectful and want to help you with no expectations of getting anything in return. It is recommended to keep the level normal of precautions when traveling as you would in any foreign country.
2. What clothing should you pack? 
A lot of people are surprised to hear that Israel is a modern country in terms of clothing, (as well as many other things!). While there are some religious sects that have strict dress codes for women and even men, Israel as a country allows both women and men to freely choose how to dress. However, out of respect for the different religions and cultures, it is recommended to dress respectfully at the various religious sites. Men don't have too many restrictions and can wear pretty much anything as long as they are not wearing a sleeveless shirt. Women have more restrictions and should ensure that their thighs, upper arms, chest and shoulders be covered when entering a religious site, especially if it is something Jewish such as the Western Wall. We highly suggest bringing a light shawl or scarf with you that you can throw on, to cover up before entering a holy site.

3. Which languages are spoken in Israel?
The official languages of Israel are Hebrew and Arabic. As English is taught in schools here beginning from third grade, a lot of citizens speak at least a few words of English. There are also a lot of immigrants from English speaking countries as well as first generation Israelis whose parents are from English speaking countries. All of these factors combined, mean you have a pretty good chance of finding someone who speaks English and can assist you. Tel Aviv and Jerusalem are full of English speakers, or Anglos as they call themselves. However, if you travel to a city on the outskirts, the chances of finding an English speaker decrease.
4. Whats is the weather in Israel like? 
While Israel technically has 4 seasons, summer is the longest season and really varies by city as well as the year. A typical year in Israel, has spring beginning in April and finishing at the end of May. The summer months are June through October and sometimes even November. However, if summer continues into November, the evenings and nights will start to get chilly. The autumn months are November and the beginning of December with the early mornings and nights being fairly cold. Winter usually arrives in the middle of December and goes until April when it begins to heat up again. Winter is also the rainy season here in Israel so it is recommended to bring water-proof shoes as well as a warm water resistant coat. Summers in Israel are extremely hot so sunscreen, a hat, and cotton or linen clothes are advised to maintain your comfort.
5. Is tap water in Israel safe to drink?
The water in Israel is perfectly safe to drink. Something to bear in mind, Israel does not filter out a lot of the minerals that other countries do. Because of this, it does take some time for your system to get used to this without getting a bit queasy. For those staying for more than a few weeks, definitely try to get your system adjusted to the tap water as bottled water can be pricey. Although a cup or two here and there should be okay, anyone staying for a shorter period of time is advised to buy bottled water.

6. How much to tip
Tipping is the norm in Israel and generally expected. Tipping in restaurants is only for a sit down meal and not for something like pizza or falafel/shawarma. 10%-15% is the standard amount for tipping but is to your discretion. Tipping in taxis is nice but not mandatory. Tipping your guide and driver is not mandatory but highly recommended as a lot of effort goes into their jobs. Noah Tours usually recommends USD $5-$10 per person per day for each the guide and driver if you join a group tour. The tip for your guide goes up for a private tour and should be between USD $100-$150 per day split between the number of people in your group. If you also have a driver for your private tour, the tip can be between USD $10-$15 per person per day.


Panoramic view of the Old City of Jerusalem
7. What currency is used in Israel? 
The currency in Israel is called NIS = New Israeli Shekel, more commonly referred to as the Shekel. While it is preferred to pay in NIS, most souvenir shops will accept USD. Places such as restaurants or clothing stores, usually only accept NIS. Remember, that if you do pay in USD, make sure that the shopkeeper is giving you a fair conversion rate and isn't trying to take advantage of you. If you'd like to pay with another currency besides for USD or NIS, while you may ask, don't be surprised to hear that the answer is no.
8. Are credit cards accepted?
Credit cards are widely accepted in Israel. There are also ATM's in many locations. Please make sure to speak to your bank/credit card company about your personal foreign transaction fee and to let them know you will be traveling so your card is not blocked.
9. Israeli visa requirements
Visas to Israel are totally dependent upon which nationality passport you hold. Please see our blog post on visas to Israel for further information.
10. Cost of traveling in Israel
Many people think of Israel as a third world country and assume that it will be a cheap place to travel to. As Israel has become a very popular place to travel, the rates for all services including hotels and food have risen in price. We suggest to all of our travelers to have USD $100 per person per day in cash available to them in case their credit card gets lost or doesn't work. This amount ensures that you are able to buy sufficient food, beverages, souvenirs and any clothes/toiletries you may need. Recognizing that travel to Israel is pricey, Noah Tours have created many different tour packages as well as private tours for most budgets, to allow more travelers to enjoy our beautiful country.

11. Are vaccines needed when traveling to Israel? 
The standard vaccines are recommended before traveling to Israel, with most people already having received these in their youth. However, please speak with your doctor about your personal medical status to ensure you are properly vaccinated. If your doctor is unsure, many cities have travel clinics with doctors and nurses who specialize in this and can assist you.
12. Israeli visa stamp: fact or myth? 
Israel used to stamp your passport with a visa stamp. As there are some countries that do not allow you to visit if you have an Israeli stamp in your passport, Israel changed their policy to allow more people to travel here freely. Your entry visa is now given to you on a small slip of blue paper that you must keep in your passport for the entire duration of your trip. This slip shows hotels and car rental agencies that you are a tourist and do not have to pay the 17% VAT (Value Added Tax) that Israeli citizens have to pay. You will also receive your exit visa on a pink slip of paper upon departure. You can either throw both of these slips out once you are home or save them for your scrapbook. However, it is recommend to remove them from your passport as soon as possible to ensure that they don't get accidentally handed over to someone they shouldn't.
13. Electronic devices: which adapters to use?
In Israel the standard voltage is 220 V and the frequency is 50 Hz. If you are coming from the United States or from any country that uses 110 V, you will just need an adapter as most phones and laptops have a built-in converter. We recommend purchasing an adapter online. We have found Amazon to have many affordable options which can be found by simply searching for "adapter for Israel".
14. Additional security measures
In order to ensure your safety and the safety of others, Israel has, what may seem like, extreme security measures. There are many police officers patrolling by car, motorcycle, foot and even horse. There are also many highly trained armed soldiers and armed security guards throughout the various touring sites, shopping districts and restaurants. Additionally, the security officers at the airports and border crossings may ask more questions than what you are normally used to. Some of the things they may ask are, why are you going to Israel? Where are you staying? Do you know anyone in Israel? If yes, where do they live? These are just a few of the possibilities. Airport Security may also question you in a separate room and go through your bags. These questions and procedures should not be taken personally. Please know that they are just trying to do their jobs in order to keep you, your family, your fellow passengers and the land of Israel safe. If you answer all questions honestly and politely, everything will be okay.