Jesus Boat, Sea of Galilee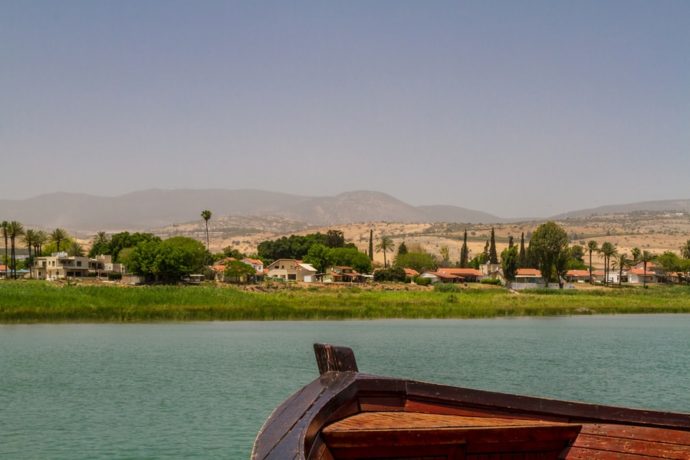 Beautiful Sea of Galilee & Jesus Boat
How was the Jesus Boat discovered?
In 1986, two unlikely fisherman stumbled upon what would later become known as the Jesus Boat. While fishing in the Sea of Galilee, the men stumbled upon the boat during an extreme drought when water levels of the lake were very low. They noticed a large protruding oval shape in the shore near the water. As local residents of the nearby kibbutz, they occasionally searched the area for ancient artifacts. Once they realized they had discovered an extremely old boat, they immediately contacted the appropriate authorities who sent a team to extract it.
How did they remove the boat from the Galilee Sea?
Extraction of the boat was a very long and tedious process. Thankfully, the boat was covered in a thick layer of mud which helped to somewhat preserve the wood over the years, although it was still incredibly fragile. The team was incredibly tedious in their retrieval of the artifact to avoid damaging it. At the same time, they had to ensure the project was completed before the lake levels began to rise again. After a lengthy 12 day process, that included wrapping the waterlogged boat in fiberglass and foam to keep it to together, the boat was officially excavated. It would spend the next 11 years in an intensive recuperation process that involved soaking it in wax, and spraying it with water day and night to keep it from crumbling.
Why is it called the Jesus Boat?
The build and structure of the boat matches the typical structure of boats that were used during the time of Jesus. This has also been confirmed, courtesy of carbon dating, which dated the boat to have been built roughly 120 BCE – 40 CE. The boat also measures roughly 8 meters long, which is designed to fit approximately 15 people. Meaning, theoretically, it could have carried Jesus and his disciples. In addition to this, the location where the boat was found is near Migdal, the hometown of Mary Magdalene. Though there is no direct evidence that the boat belonged to or was used by Jesus, the ancient artifact still carries the name because of its authenticity of age and location.
Where is the boat today?
Today the Jesus Boat is on display at the Yigal Allon Center in Ginosar, a kibbutz located along the Sea of Galilee. To ensure its preservation, the boat is placed in a special room designed especially for its protection. Kibbutz Ginosar and the Yigal Allon Center have become a popular tourist destination for Christians visiting the area, who want to see the boat first-hand. Not to mention the pure beauty of Ginosar and the Galilee itself. When you book one of our Israel tour packages, you can also take a boat ride on the beautiful Sea of Galilee for yourself!
Want to explore biblical Israel and the Sea of Galilee for yourself? These sites are included in all Noah Tours Israel tour packages!