Biblical City of Nazareth, Israel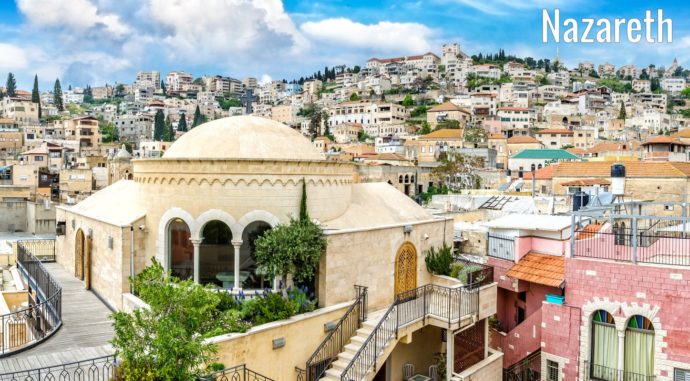 Nazareth & The Church of Annunciation
Where is the biblical city of Nazareth?
Located in the lower Galilee region in Israel, not far from the Sea of Galilee, you'll find the biblical city of Nazareth. Famously know as being the hometown of Jesus, the city is full of biblical history and is today a hub of Christian tourism and the largest Arab city in Israel. While much of today's Nazareth is modern, the city has maintained plenty of its ancient history and character. See below for a list of the best sites to see in Nazareth.
Nazareth Village
No trip to Nazareth would be complete without a visit to Nazareth Village. The aim of this small village is to transport you back in time to the biblical days of Jesus. They've taken careful consideration to create a replica of every element of ancient Galilean life. The village is filled with actors in historically accurate costumes, performing rituals and traditions of ancient days. The experience is sure to be fun for the whole family.
Old City of Nazareth
Nazarath's Old City is a charming and ancient neighbourhood reminiscent of biblical times. Outside of the Nazareth Village, this is the best location to get a feel for ancient Nazareth. The Old City is home to famous sites like the Church of the Annunciation, the Shuk, the Church of Jesus the Adolescent, and many more. Walking up and down the streets of this neighbourhood is an experience of itself.
Church of the Annunciation
Inside the Old City of Nazareth is the Church of the Annunciation. Located next to a cave that is said to be the home of the Virgin Mary, the church itself is said to be the exact location where the angel Gabriel informed her of her pregnancy. Built in 1969, it is the largest Christian church in the Middle East. Even if you aren't Christian, the church is still a sight to see due to its beautiful and unique architecture. Designed by famed Italian architect Giovanni Muzio, the church is mesmerizing to all who visit it.
The Shuk
Conveniently located near the Church of the Annunciation, the Shuk is another popular attraction in the city. Much like the shuk in Jerusalem or Tel Aviv, the shuk in Nazareth provides an authentic Middle Eastern shopping experience. Wander up and down the stone covered alleyways and get a feel of life from another time. And most importantly…don't be afraid to haggle for a better deal!
Nazareth is included in all of our Israel Tour Packages. Want to experience this magical city for yourself? Contact Noah Tours today for our latest offers!
Other recommended sites to visit in the biblical city of Nazareth:
Mary of Nazareth International Center
El Rais
St. Joseph's Church
Cana
Synagogue Church
Chapel of Fright
St. Gabriel's Church
Mary's Well
Ancient Roman Bath House