Planning your Israel Tour? How to Choose Hotel Class.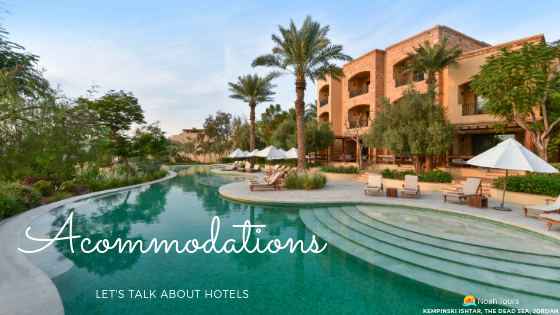 Discover our 5 Recommended Hotel Class Options Below for Your Next Israel Tour
Choosing a hotel class can be quite confusing at times, especially since hotel standards may change from one country to another. To solve that, we've made a short guide which includes everything you need to know about hotel levels in Israel and how to choose the one that suits your needs best! The 5 hotel levels mentioned below are the ones we offer for our original Israel (Jordan & Egypt) Tours Packages and our Israel Private Tours. We've included the relative equivalent of each of these hotel class options in stars to make it easier to compare them.
So what would our travel experts recommend?
We always recommend booking comfort class or higher when booking one of our tour packages and superior class or higher for our private tours. Hotel rooms in Israel, Jordan and Egypt do tend to be smaller than usual and we want our guests to be as comfortable as they'd be at home.  

.
Executive Class (5 star plus or higher)
Executive Class guests stay at Israel's top-rated hotels giving them a luxury travel experience. With access to fabulous amenities and attentive front desk service, executive class guests enjoy the true luxury of relaxing after a rich day of touring. Amongst our favorites is the historically significant King David Jerusalem, where American presidents and royalty stay when visiting Jerusalem. The beach front Hilton Tel Aviv which is considered the best hotel in the city is also famous world wide. Other honorable mentions must be the Dan Tel Aviv; its suites were chosen by Madonna for her stay in Tel Aviv. Sheraton also hosted superstars such as the late Avichii. If you prefer a more unique, out of the box option, our team was super excited to check out the new boutique-style The Norman.  

Deluxe Class (5 stars)
Deluxe class hotels are usually located at the most desirable locations, providing guests with the ultimate convenience and access to popular restaurants. Included in the deluxe category are "The Leading Hotels of the World" such as the Mamilla Hotel. It encompasses all of the above among with a gorgeous panoramic view of the Old City. With a design combining old and new style, much like Jerusalem itself, it is a true 5-star experience. We recommend both executive and deluxe class for our Luxury Tours.

Superior class (4 star plus hotels)
Superior class guests are offered a selection of beautiful hotels. With Superior class, travelers are able to enjoy the best of both worlds. From the Dan Panorama Jerusalem to Mt Zion Boutique, each hotel has its own style and provides guests with quality rooms, while additionally allowing guests experience a unique Israel atmosphere. The hotels are equipped with a wide a variety of facilities, including fitness centers and available spa packages.  

Comfort class (4 stars)
Comfort class has the most fitting name of all five hotel categories, as it offers comfortable, nice rooms. Rooms are charming and clean. The BY 14 Tel Aviv is a great example of a comfort class hotel. The modern design and short walk from the iconic Tel Aviv boardwalk makes the BY 14 a go to for Comfort Class travelers. Out of our two budget hotel class options, we always recommend considering comfort class for your Israel tour.  

Tourist Class (3 stars)
Tourist class hotels (3 stars) offer guests, nice and pleasant accommodations during their stay. Full breakfasts are included, just like the other classes. We usually work with tourist class hotels in more central locations, allowing guests easy access to popular restaurants. Two Jerusalem Tourist class hotels are The Montefiore Hotel Jerusalem and the classic Jerusalem Tower Hotel.