The Bahai Gardens, Haifa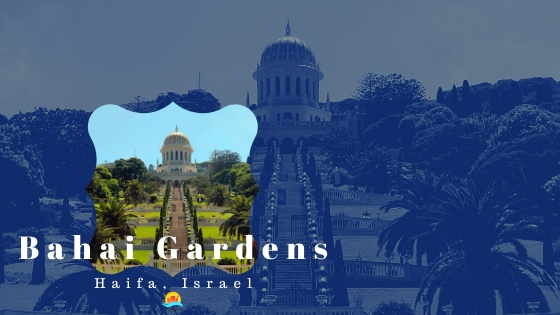 What makes the Bahai Gardens in Haifa so unique?
Where are the Bahai Gardens?
Take a trip up the Israeli coast and you will find the beautiful Bahai Gardens. Located in Haifa, Israel's third largest city, the gardens are considered to be sacred grounds by followers of the Bahai faith. The gardens are known for their lush green hues and unique geometrical shapes. Construction for the gardens started in the late 80s before officially opening to the public in 2001 and later recognized as a UNESCO World Heritage Site in 2008.
Haifa Bay
Stretching up and down the slopes of Mount Carmel, they contain nineteen mesmerizing terraces and an elongated staircase stretching from top to bottom. Make sure to bring comfortable shoes! The gardens are also home to an infamous golden shrine known as the Shrine of the Bab. It is the burial place of the Bahai religion's most respected prophet. Not only are the gardens themselves gorgeous, but they offer excellent panoramic views of the city and the bright blue Haifa Bay.
Shrine of the Bab
Although the gardens are of great religious significance and considered to be one of the holiest places of the Bhai faith, the grounds are open to the public and have complimentary tours departing at various times of the day. In fact, more than half a million tourists visit each year. It is also permitted to enter the Shrine of the Bab of which the gardens are meant to encompass, but you must remove your shoes upon entering and no photos are allowed while inside. But don't worry, you'll have plenty of photos of the beautifully manicured gardens and the sweeping views of Haifa from outside.
Akko
Not far from Haifa is another holy city of the Bahai faith, Akko. In Akko, there exists another sacred garden, as well as the former home and burial place of the founder of the religion. Though the garden is much smaller than in Haifa, the trip is easy and it's just as gorgeous. Some say the gardens in Akko are even more peaceful due to their secluded location.
Interested in visiting Haifa and the Bahai Gardens? These sites are included in all Noah Tours Best of Israel tour packages.