7 Best Luxury Hotels in Egypt You Don't Want to Miss!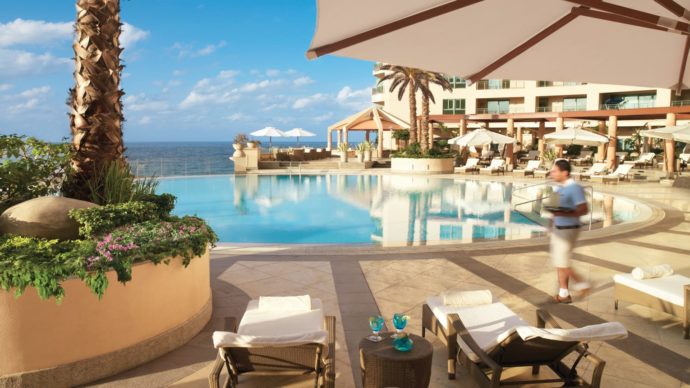 Our Top Luxury Hotel Picks in Egypt
Trying to plan your next Israel, Jordan & Egypt Private Tour but don't know where to start? Don't worry, Noah Tours has you covered. Take a look below at a list of our favorite luxury hotels in Egypt!
CAIRO
7. FOUR SEASONS NILE PLAZA
The Four Seasons Nile Plaza is a magnificent hotel located along the river bank of the Nile in Cairo. The hotel features a whopping nine restaurants with a wine cellar, a beautiful spa with a state-of-the-art fitness center, steam room, sauna, and two large swimming pools. The reputation of the Four Seasons name is evident at this luxurious hotel.
6. MARRIOTT MENA HOUSE
Located right near the infamous Great Pyramids of Gaza, the Marriott Mena House offers beautiful views of these ancient structures from the comfort of your room. In true Marriott fashion, this resort style hotel also offers multiple dining options, swimming pools, and a full service spa.
5. THE NILE RITZ CARLTON
As the self-proclaimed "first luxury hotel in Egypt", The Nile Ritz Carlton set the stage for five star hotels in Egypt. The hotel continues this tradition to this very day. Located in downtown Cairo along the Nile River, the hotel lives up to its legacy while staying true to its roots in a land so rich with history. Be sure to check out their rooftop lounge, olympic size pool, and lavish spa while you're there.
4. THE FAIRMONT NILE CITY
Located in the heart of Cairo, The Fairmont Nile City is a gorgeous statement in modern elegance. The unique design blends classic Art Deco style with modern comfort, creating a unique five star experience that can't be found elsewhere. Offering excellent views of the Nile River and a huge luxurious spa, this hotel isn't just one of the best hotels in Egypt – it is in a league of its own.
ALEXANDRIA
3. THE FOUR SEASONS ALEXANDRIA
With two mentions on our list, the Four Seasons brand has built a remarkable legacy for itself. A resort-style hotel with a sleek waterfront location and exclusive private beach, The Four Seasons Alexandria is no exception. Be sure to check out the gorgeous infinity pool overlooking the Mediterranean Sea for an experience you won't forget.
LUXOR
2. WINTER PALACE
Arguably the most famous hotel in all of Egypt, Winter Palace hotel is rich with fascinating history. The hotel was not only the setting of Agatha Christie's famous novel "Death on the Nile", but also once served as a winter vacation home for the Egyptial royal family. For many years this exclusive hotel has been frequented by world leaders, politicians, and celebrities alike who appreciate its unmatched experience.
ASWAN
1. SOFITEL LEGEND OLD CATARACT HOTEL
The Sofitel Legend Old Cataract Hotel is a grand and stylish hotel with hints of French and Persian design. The hotel offers unmatched sophistacation and luxurious accomodations that would flatter even the most experienced travel connoisseur. A stay at the Old Cataract hotel would not be complete without visiting their extraordinary and stunningly designed spa. The mosaic themed indoor pool is an experience all in itself.
For more information or assistance in creating your own Israel, Jordan & Egypt Private Tour, contact us here!