10 Best Luxury Hotels in Israel: Find Out Where to Stay!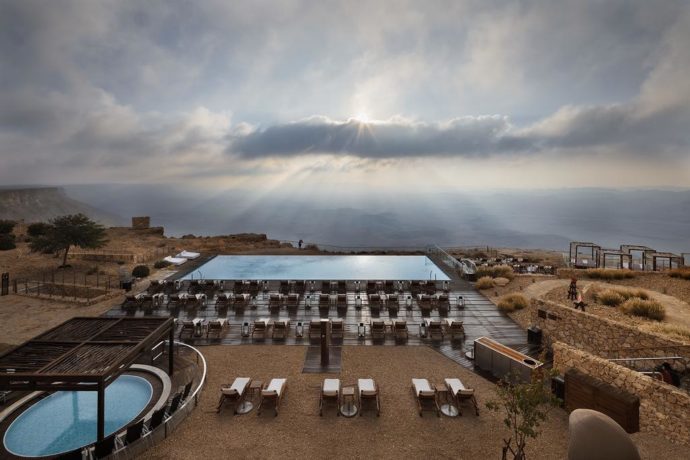 Our Top Luxury Hotel Picks in Israel
Trying to plan your next Israel Private Tour but don't know where to start? Don't worry, Noah Tours has you covered. Take a look below at a list of our favorite luxury hotels in Israel!
TEL AVIV
10. THE NORMAN TEL AVIV
The Norman is a stunning new addition to this vibrant Mediterranean city. Located in the center of Tel Aviv, this boutique hotel offers contemporary suites with beautiful hardwood floors and terraces, two restuarants, an art gallery, and a rooftop infinity pool with gorgeous views of the Tel Aviv skyline. Its unique settings and top-notch staff helps turn it into one of the best luxury hotels in Israel.
9. THE JAFFA HOTEL
The Jaffa Hotel, a Luxury Collection Hotel by Marriott, was once a busy and bustling French hospital under the patronage of King Louis V. The hotel, which provided medical care free of charge, closed its doors in 1969. After passing through various hands, it was finally sold in 2006, and with construction newly finished, it is now a glorious hotel with 127 rooms and 38 luxury apartments in a separate residential wing.
GALILEE/NORTHERN ISRAEL
8. MIZPE HAYAMIM
Mizpe HaYamim, a member of Isrotel's Exclusive Collection, is Israel's treasure of the North. Located in the beautiful Galilee region, the hotel has views of the rolling green hills and the gorgeous Golan Heights. Designed to be harmonious with the nature surrounding it, Mizpe HaYamim is the perfect relaxing getaway for those seeking a peaceful nature experience.
7. THE SCOTS HOTEL
The Scots Hotel is a staple in the history of modern Tiberias. Originally built in 1894 by a doctor from Scotland, the building first served as a hospital for many years before being converted into a guesthouse in the 1950s.  Today, the location is owned and operated by The Church of Scotland and is a luxurious 5 star hotel that combines the beauty of 19th century stone architecture with a twist of modern comfort. All of this combined certainly turns The Scots into one of the best luxury hotels Israel has to offer.
6. THE EFENDI HOTEL
Welcome to The Efendi Hotel in Akko, where modern luxury and rich history meet. This boutique hotel was once two separate exquisite palaces during the 16th century under Ottoman rule. Today it is a serene and luxurious hotel located along Israel's northern coastline. Conveniently located midway between Haifa and Rosh HaNikra, this beautiful "palace" is definitely a must stay if you're looking for a hotel in the north.
DEAD SEA
5. MILOS DEAD SEA HOTEL
Milos Dead Sea Hotel is a spectacular modern luxury hotel located along the shore of the Dead Sea. The hotel design and style is made to be reminiscent of modern Greece. This villa style hotel is one of the newest additions to the Dead Sea area and offers a total rejuvenating experience with its luxurious spa and gorgeous Dead Sea and desert backdrop.
JERUSALEM
4. MAMILLA HOTEL
Mamilla Hotel has the honor of being the best location in Jerusalem. Located in the heart of town, with a view of the Old City Walls, this hotel is one of our top picks for an Israel Private Tour. The rooms at Mamilla have the perfect mix of tradition and modernity, featuring walls made of Jerusalem stone and floor to ceiling glass panels. Make sure to visit the rooftop restaurant overlooking the Old City for an experience you'll never forget.
3. THE AMERICAN COLONY HOTEL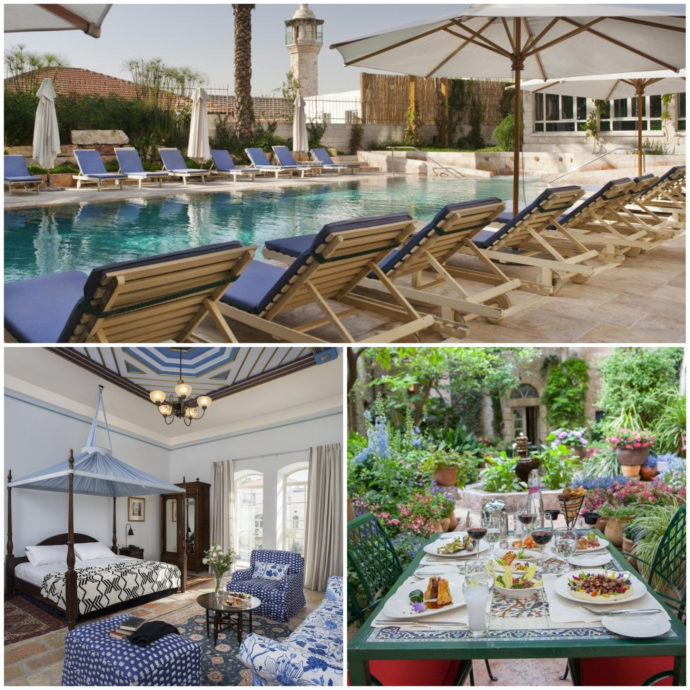 The American Colony Hotel is another exquisite residence in Jerusalem. A member of "The Leading Hotels of the World", the hotel features a tranquil yet luxurious garden setting in the center of Jerusalem. Featuring 6 restaurants, a contempary outdoor pool, & a lush garden, this hotel has something for everyone.
2. KING DAVID JERUSALEM
The King David Jerusalem hotel is well known for its rich history and modern luxury. From hosting 1930's royalty, to modern day heads-of-state, King David Jerusalem has played a unique and important role in the history of the State of Israel. Often considered the top hotel in Israel, if not the entire Middle East, it has received countless awards and recognition for its high level of customer satisfaction and exquisite accommodations.
NEGEV
1. BERESHEET HOTEL
Beresheet Hotel is the crown jewel of Israel, and one of the world's most unique and beautiful hotels. A member of Isrotel's Exclusive Collection and located in the small desert town of Mitzpe Ramon, this boutique spa resort provides ultimate 5 star luxury with sweeping views of the Negev. Often ranked as the best and most exclusive hotel in Israel, Beresheet and its surrounding scenery is an experience that can't be missed and will not be forgotten.
For more information or assistance in creating your Israel Private Tour, contact us here!