Beresheet Hotel, Mitzpe Ramon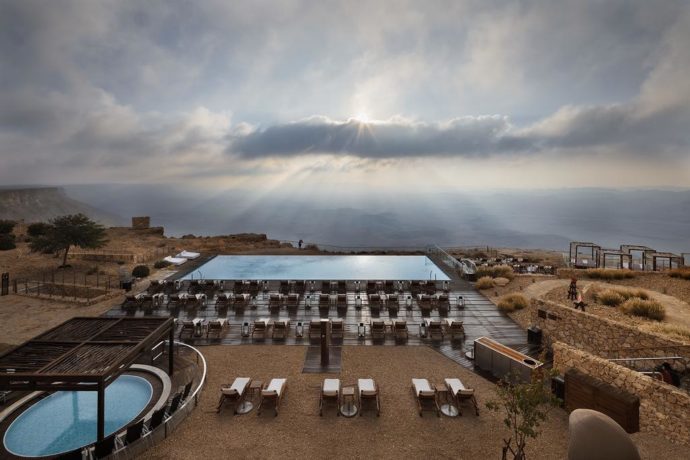 Beresheet Hotel: Excellence in the Negev
Beresheet hotel is one of the world's most unique and beautiful hotels. A member of Isrotel's Exclusive Collection and located in the small desert town of Mitzpe Ramon, this boutique spa resort provides ultimate 5 star luxury with sweeping views of the Negev. Often ranked as the best and most exclusive hotel in Israel, Beresheet and its surrounding scenery is an experience that can't be missed.
The Location
Beresheet is located in the small Negev town of Mitzpe Ramon, home of the famous Makhtesh Ramon (Ramon Crater). The juxtaposition of a boutique luxury resort in the heart of the desert is what makes this hotel so incredible. The views of the rolling hills and magical sunsets, combined with exceptional décor and architecture, provide unprecedented tranquility. Not to mention, the Makhtesh Ramon is just next door. You can stay at Beresheet and visit the Makhtesh Ramon with Noah Tours. Take a look at our Israel Tour Packages for more information!
The Pools
One of the most recognizable features of Beresheet is it's infinity pool. Recently voted "Coolest Pool in the World" by the travel site Travel Agent Central, the infinity pool is located on the edge of the Makhtesh Ramon, providing unbelievable poolside views of the crater. Additionally, Beresheet also houses an indoor poor, a jacuzzi, and private pools are included with many of the rooms. No matter which pool you choose, you'll have equally impressive views of the Negev landscape.
The Rooms
Every room at Beresheet offers a true five star experience. The luxurious and spacious design comes with a coffee bar, bathtub with separate shower, desk, sitting area with sofa, and private balcony. Many rooms have views of the crater from the comfort of your bed, and from the privacy of your personal balcony. As mentioned before, private pools are also available with many rooms, creating your own personal oasis.
The Amenities
In addition to the world-class pool and rooms, the hotel also houses a luxury spa and several dining locations. At the Rosemary Restaurant, you will find a large selection breakfast buffet in the morning and gourmet table side service for dinner. The restaurant also has huge floor-to-ceiling windows, providing you with a mesmerizing view while you eat. If you're looking for a lounge vibe, check out the Lobby Bar which features a cocktail menu, teas, and light dairy meals.
Beresheet Hotel at Mitzpe Ramon is available with Noah Tours as part of our Israel Luxury Tours and Israel Private Tours. Contact us for our latest Tour Packages and experience the trip of your dreams!