Milos Dead Sea Hotel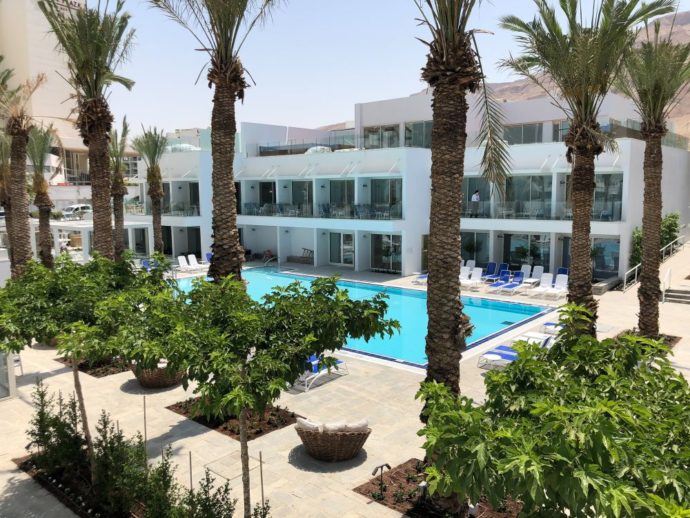 Milos Hotel: The Ultimate Dead Sea Experience
Where is Milos Dead Sea Hotel?
Milos Dead Sea Hotel is a spectacular modern luxury hotel located along the shore of the Dead Sea. The hotel design and style is made to be reminiscent of modern Greece. This villa style hotel is one of the newest additions to the Dead Sea area and offers a total rejuvenating experience with its luxurious spa and gorgeous Dead Sea and desert backdrop.
The Spa and Gym
The spa at the hotel features soothing treatment rooms, sulfur pool, salt pool, Jacuzzi, and 2 different saunas. The professional advisors at the spa can suggest the best treatment based upon your interests from a wide-ranging menu of services. If you need a quick work out, check out the gym on the third floor thats open 24 hours. All of this of course is overlooking the gorgeous outdoor pool and surrounding Dead Sea landscape.
The Rooms
The Rooms follow the same style and décor of Modern Greece as the exterior of the hotel. You'll find only soft, calming colors and furniture inside, creating a sense of serenity. All rooms feature a huge king size bed, Nespresso machine, kettle, sitting area, mini bar, bathrobe, and free wifi. The best part about the rooms at Milos? Most include your own private infinity pool on a terrace overlooking the Dead Sea!
The Food
Milos houses several different dining options for guests. The main dining hall is the largest and most popular, offering breakfast and dinner in a stylish environment. In addition, there is a poolside restaurant, called the Pool Gazebo, where you can grab a drink and small bites while relaxing by the pool. If you're trying to have a quiet night in, just pick up the phone and take advantage of the 24 hour room service offered as well.
The Beach
Because the hotel is located directly on the shore, Milos Hotel guests have direct access to the Dead Sea beach! You'll just need your room key to enter/exit through the gate. There are also several other beaches with seating and umbrellas within walking distance. When you're done floating in the sea, head over to the Dead Sea mall, just down the street, for some excellent shopping and restaurants.
Travel with Noah Tours and you can experience this hotel and all of Israel for yourself! Take a look at our Israel Private Tours and Israel Tour Packages for more information.