Holy Land Tour: How to Design the Ultimate Journey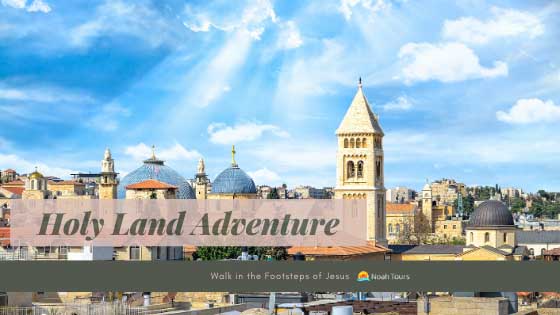 Find Out Everything You Need to Go on a Spiritual Catholic Trip to Israel
Did you ever dream of walking in the footsteps of Jesus Christ? There is nothing better than seeing the sites from the Old and New Testament with your own eyes.

Going on a Catholic Holy Land Tour with a local, professional guide that has dedicated her/his life to learning about the Holy Land can be a great way to learn more and make the most out of your visit to Israel. Though this can be done on a private basis, you can also organize your own group and go on this journey with your own spiritual community. 
To help you start planning, we've made a list of the top 10 tips you must know before visiting.
#1: Must see Catholic sites in Israel
There are so many significant sites to visit during your tour to Israel. With so many options, it can get pretty difficult to choose, but don't worry – we've made a list of 11 sites you must visit.
Nazareth and the Church of Annunciation is an important place to Catholics and should not be missed, as Jesus of Nazareth spent a lot of time in this area.
Cana is famous as it is the place where the miracle of Jesus turning water into wine took place. Additionally, it is home to the popular "Wedding Church" where many happy couples renew their vows to this day.
Magdala is the place where Mary Magdalene was born. It is now possible to visit the remains of the ancient city and feel what it was like to live during Jesus's time.
Mt. Beatitudes, where Jesus gave the "Sermon on the Mount", also offers a beautiful view of the area. Look around and enjoy the view Jesus saw with his own eyes when giving the sermon!
Mt. Tabor, on the top of this beautiful mountain, is The Church of Transfiguration. It was built in honor of the transfiguration of Jesus himself, which according to tradition, took place right there.
Jericho is perhaps the oldest city in the world, located in the scenic Judean Desert. This is the place where the devil attempted to tempt Jesus Christ. Don't miss the opportunity to ascend Mt. Temptation and witness it with your own eyes.
Bethlehem is a must. The Church of Nativity located at Manger Square is said to be built right where Jesus was born.
Mt. Olives is a cemetery that once was covered in olive groves. Now, it overlooks the Old City of Jerusalem and offer a breath-taking panoramic view of the city.
The Garden of Gethsemane is the very place where Jesus prayed and his disciples slept the night before his crucifixion.
Via Dolorosa, the Stations of the Cross, is where you will literally walk in the footsteps of Jesus. Make your way past the very places Jesus saw on his way to the cross.
Church of the Holy Sepulcher, where Jesus was crucified, is another site to visit when in Jerusalem.
#2: What hotels are best suited for Catholic pilgrims?
No Catholic tour can be complete without the right accommodation. Choosing the right hotels is a crucial part of any tour and can add a lot to the experience.
So what would our team recommend? There are many good accommodation options to choose from. If you would like to stay at traditional hotels, check out our post about hotel classes in Israel. If you would like a more authentic pilgrimage experience, these are our top 3 choices:
Magdala Guesthouse
The Magdala Guesthouse is located in beautiful Magdala and offers a pleasant home to any pilgrim.
Mt. Beatitudes Guesthouse
Clean, calm and full of kindness – this is a lovely way of experiencing the Galilee.
Notre Dame of Jerusalem
What better way is there to experience a historical city than to stay at a historical building? Notre Dame of Jerusalem has been welcoming guests since the end of the 19th century. Many pilgrims enjoyed the guesthouse's hospitality and its excellent location, right next to the Old City's walls and the New Gate.
#3: Group Size
We offer both Private Catholic Holy Land Tours for small group and individuals, as well as an option to organize a group and visit with your church and community. A private tour option is most recommended for couples and families, as it gives more flexibility when choosing sites to visit and determining a certain pace. Bigger groups, on the other hand, though less flexible, are often very meaningful for the participants. It lets a community unite in a beautiful, mutual experience, which is different than the regular routine at home.
Once you decide which option suits you best, simply contact our team and one of our experts would love to assist with organizing a tour for you and your loved ones.
#4: Guides and Spiritual Leaders
We recommend that the group come with its own pastor/leader rather than searching for a local one. This will ensure that you will be accompanied by your own spiritual leader who resonates with you. It gives your Catholic Holy Land tour a warmer feel. Additionally, you will not need to depend on local clergyman in case you would like to have a Mass, baptize in the Jordan River or renew your vows in Cana.
#5: Book Masses in Advance
The one crucial factor to booking masses is very simple: book in advance to secure availability at your preferred churches. From our experience, masses are booked many months prior to arrival and availability becomes quite scarce as your arrival grows nearer.
#6: Spiritual Experience: Baptize in the Yardenit
A "literal" way of walking in the footsteps of Jesus is to baptize in the Jordan River. This is a great way of reconnecting and having a spiritual moment, though we may recommend reconsidering it in case you arrive during the cold winter…
Another important thing to keep in mind, there isn't always a pastor available. It is best to have your own spiritual leader with you so you won't rely on others for the ceremony. This site is considered one of the most important sites in the Galilee and we also include this in our Israel tour packages, which are suitable for all faiths.
#7: Couples Activity: Renewal of Vows in Cana
One of the most meaningful moments of our lives is the day one marries a beloved partner. Sometimes, daily routine may make us forget why we decided to share our lives together. A great way to remind ourselves of the reasons is to renew the vows we took all those years ago. And what better time is there to do this than right now, in the Holy Land, where Jesus walked?
We are always thrilled to help our guests renew their vows at the Wedding Church in Cana. If you do not have a pastor travelling with you, we recommend booking this in advance, in order to secure avaialbiltiy for a clergyman. Let us know your preference and our team will handle the booking. Happy renewal!
#8: Christmas Tours
Christmas is one of the most popular times for pilgrims to visit. Going on a Catholic Holy Land tour during this time is definitely an unforgettable experience. Christmas trees are being lit in Nazareth, Jerusalem and of course, Bethlehem, Jesus's birthplace. What better way to celebrate Jesus's birth than to visit the very place he was born?
Many of our travellers find this a meaningful experience, whether they go on a private tour or join one of our Israel Chritmas tour packages – now available for 2020-2021!
#9: Visiting during "Holy Week"
Visits during Easter has its benefits and draw-backs. Visiting the holy sites during a holiday is certainly a unique experience. A big bonus is that the weather during Spring in Israel is usually perfect for travelling at this time: warm, but not too hot.
As Easter usually falls at the same time as Passover, a national Jewish holiday, the Holy Week is is a very busy time to visit Israel. Pilgrims and Jews love to visit during this time. Many sieze the opportunity to enjoy the nice weather so holy sites and nature reserves alike tend to be very crowded. Additionally, due to the large amounts of visitors, some churches may be closed for visitors.
#10: Don't go home empty handed! Catholic Certificates through Noah Tours
We'd love you to take home some great memories from your Catholic Holy Land tour and what better way than a souvenir? Noah Tours arranges for a pilgrimage certificate for all of our Catholic pilgrim groups.
Any questions? Don't be shy! Our team would be more than happy to speak with you. Contact us here for further information regarding Holy Land tours.