Fairmont Amman Hotel, Jordan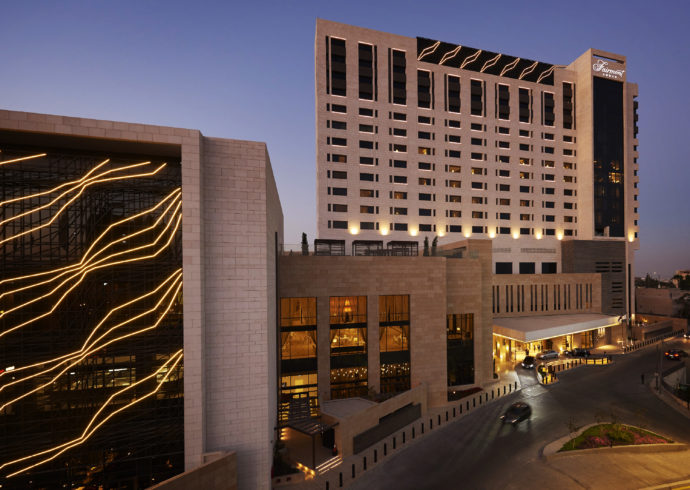 Fairmont Amman, Jordan: Elegant Urban Oasis
The Fairmont Amman Jordan is an urban oasis located in one of Amman's most prestigious neighborhoods. The hotel includes over 300 meticulously designed rooms, 6 dining locations, 2 rooftop pools, and a 2200 square meter spa. Designed by award winning design firm Wimberly Allison Tong & Goo, the hotel serves as a statement in modern elegance. From the top-notch service to the stylish design, you are guaranteed a true five star luxury experience at the Fairmont Amman.
The hotel has a total of 6 dining locations, including a poolside bar and a cozy coffee lounge featuring pastries and baked goods. Every restaurant at the Fairmont has a distinct theme and menu providing you with a diverse array of options. Nasim restaurant features a menu of local and authentic Jordanian dishes, while Tsuki specializes in Japanese cuisine and sushi. The hotel also houses a steakhouse, and its standout location, Caprice. Caprice is the go-to evening spot because of it's mixology focused cocktail menu and trendy atmosphere that blends food, music, art, and culture.
The Fairmont's prime location provides for easy access to Jordan's top tourist sites. Old Downtown Amman is just a short walk away and has a very authentic, traditional Middle Eastern vibe. Also near the hotel is the famous Rainbow Street, very popular with tourists. The street is lined with coffee houses, trendy restaurants, and some of the city's best shopping. Citadel Hill is another popular attraction not to be missed as it houses a huge ancient palace built thousands of years ago. Not to mention the view from Citadel Hill offers gorgeous panoramic views of Amman. If you'd rather relax, then hang by one of the 2 rooftop pools or spend the day getting pampered Fairmont's the state-of-the-art spa!
The rooms at Fairmont Amman are designed to provide you with the perfect combination of luxury and comfort. The contemporary architecture partnered with the attention to detail create a tranquil personal oasis. With a large spacious design, modern furnishing, marble bathroom, and separate bathtub, your room will fill like your own personal spa. Sit back and gaze at the sunset from your massive wall-to-wall windows, offering you a mesmerizing view of the city, from the comfort of your own room.
The Fairmont Amman is available as part of our Executive Class tour packages. Interested in booking an Israel Luxury Tour with Noah Tours? Take a look at our Israel, Jordan and Egypt tour packages!