Movenpick Resort Petra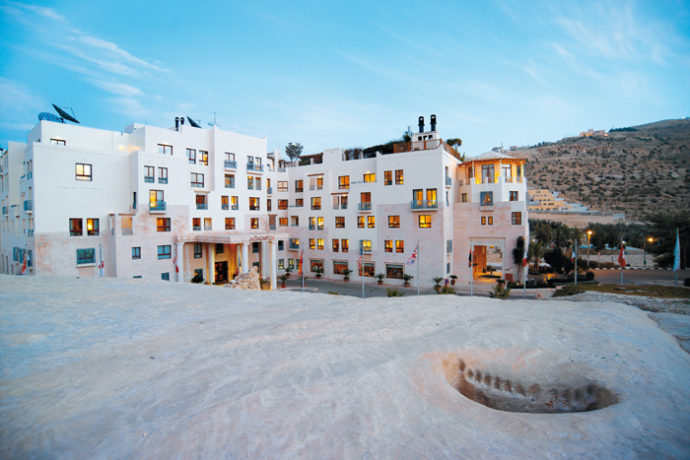 Movenpick Resort Petra: Oriental Luxury
The Movenpick Resort is a five star luxury oasis located in the fascinating historical city of Petra. The hotel has a total of 183 rooms, 7 dining locations, a fitness centre, a spa, and mesmorizing views of the rolling desert hills and Wadi Mousa. Additionally, Movenpick prides itself on providing a classic Middle Eastern aesthetic while maintaining a five star luxury experience.
Wellness Facilities
The wellness facility at Movenpick Resort provides guests with a fully equipped gym, outdoor pool, private locker rooms, and beautifully designed spa treatment rooms. The spa specializes in Arab wellness traditions featuring Hammam rituals and Turkish baths providing you a new experience with ultimate relaxation.
Location
The location of the hotel couldn't be better as its located right next to the entrance of Petra. Nicknamed the Rose-Red city, Petra is a stunning attraction and provides unforgettable memories as you walk through gazing at the ancient structures. Plus, you'll be staying at the only five star luxury resort in walking distance! Noah Tours offers visits to sites like these and many others. Take a look at our Israel, Jordan and Egypt Tour Packages for more details.
Dining Options
Movenpick provides you with multiple dining options. The Al Ghadeer Roof Garden is a rooftop restaurant with gorgeous views of the rolling desert hills. This location, in particular, provides an unforgettable and intimate dining experience.Tthere's also Al Ilwan, an elegant restaurant serving Mediterranean dishes in an intimate and formal Middle Eastern setting. In addition, the hotel also houses a bar, a tea room, 2 lounges, and a coffee/pastry bar.
The Rooms
The rooms at the Movenpick Resort offer you superior comfort in an elegant and classic setting. The room décor provides a modern feel influenced by traditional Arabic designs and patterns. Most rooms feature a private balcony, personal coffee bar, large spacious bathroom featuring a relaxing soaking tub, minibar, and working desk. Not to mention, every room has spectacular views of the Petra Mountains!
You can experience Movenpick Resort, Petra, and much more with Noah Tours! Contact us for our latest Israel, Jordan and Egypt Tour Packages.