Israel Private Tour: How to Plan Your Perfect Tour!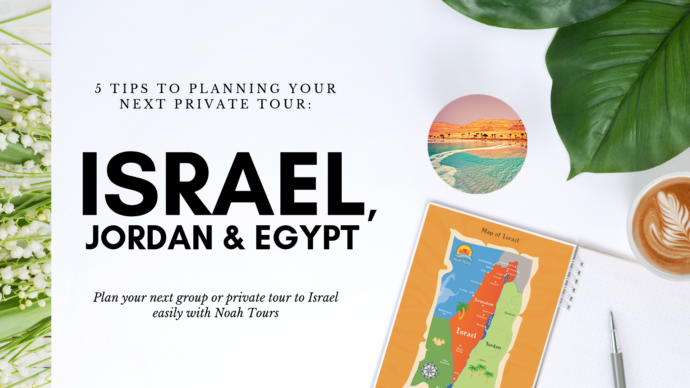 Plan your next group or private tour to Israel easily with Noah Tours!
Organizing a successful group tour requires in-depth planning, knowledge and experience. Our professional team and our leading guides are here to make sure your Israel group tour will be an exciting and unforgettable experience. We welcome you to contact us so we can offer you first class services. We are happy to answer any questions.
Please note that this is also great opportunity to visit Israel's closest neighbors, Jordan and Egypt.
Click here to submit a quote request for a group.
Read our extremely helpful suggestions on planning your trip to the Holy Land!

TIP #1: PLANNING TIME
It is good to begin planning your Israel private tour one year in advance. Although arrangements can be made earlier and later as well, depending on availability.
Choose your approximate travel dates. The season can affect your tour price. We will assist you in choosing the perfect travel dates.
Note the high and peak season periods below. These are highly busy times in Israel which require making your reservation earlier  and getting ready to meet the crowds, especially when visiting holy sites.
High Season:
July – August (Also the hottest season)
Peak Season:
Jewish Holidays, Christmas and New Year periods

TIP #2: GROUP SIZE
Decide on a realistic minimum and maximum number of participants you anticipate for your tour. The tour price is based upon the number of estimated tour members.
Regular / big group:
A minimum of 15-20 tour members is needed for a group. However, we can price tours for groups of any size. A small group can greatly affect your touring price.
Small group:
There is a possibility for a small group to join another group to be more cost effective. The perks of having a smaller group are a more intimate experience, which can be benificial for families, couples and old friends.  

TIP #3: AIRLINES
There are several factors to take into account when deciding which airline you wish to fly with.
What kind of flight plan would you like to have?
Do you mind having a stop over or would you prefer flying direct?
Are you planning on visiting more than one country?
The cancellation policy may vary according to each airline and should be read in details before booking.
TIP #4: CHOOSING YOUR HOTELS
Your tour price will vary according to the type of accommodations you choose for your tour.
Hotel star system does not yet exist in Israel. Furthermore, it is important to note that hotel standards in Israel are different than the ones common in North America, Australia and similar countries. The most commonly noted difference is the room sizes. Israel hotel rooms are said to be smaller than the ones in the countries listed above.
Location of the hotel will make the price vary. Hotels that are located close to the Old City with special views are most costly. The same is true for Tiberias and Tel Aviv hotels.
For further information regarding different hotel class options, check out our post about common hotel levels in Israel and how to choose the best one for you here.

TIP #5: PLANNING YOUR ITINERARY
Sample itineraries are provided on our Israel Private Tours page. One of the most popular options on this page would be the Israel Family Private Tours.
Another option is to check our private Israel Group Tours page for your consideration.
As the land of Israel's history is thousands of years old, it is impossible to see all the sites in 7 or 8 days of touring. You must decide on what sites you feel are most important for your group.
Please remember to take into account the following:
How many days of touring would you like to have including travelling to and from Israel?
Would like to have free days and if yes, how many? We recommend that arrival day should be a free day for the group to rest after the long flight.
Would you be interested in adding any special activities such as lunch, a farewell dinner or a night show/night tour in Jerusalem/ or any special interest features you may feel could be of importance.
In case you would like to consult with one of our travel experts regarding which program may be the best for you, feel free to click here to submit a quote request for a group.