Ramon Crater, Israel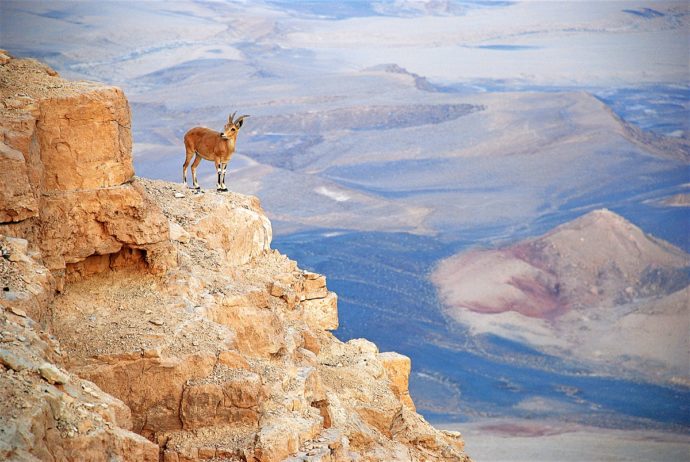 Serenity in a Nutshell: Ramon Crater, Israel
The Makhtesh Ramon in Mitzpe Ramon
The Ramon Crater (Makhtesh Ramon) in Israel is situated near the small town of Mitzpe Ramon in the Negev Desert. The town of Mitzpe Ramon was originally created in the 50s, solely as a camp for workers who were building a new road to Eilat. But after the influx of Russian immigrants in the 90s, the town saw new life and developed into a proper locality. Today the town has earned its place as one of Israel's must see destinations, primarily due to the incredible Makhtesh Ramon located there.
What is the Makhtesh Ramon?
For lack of a better term, the Makhtesh Ramon is a 40 km long "crater", making it the largest of its kind in the world. The Makhtesh Ramon is technically less of a crater, and more of a unique type of erosion landmark that is exclusive to the Negev and Sinai deserts. There is no direct English translation for the work "makhtesh", so it's commonly referred to as the Ramon Crater.
How was it formed?
As mentioned before, this type of erosion crater is unique to the areas of Israel and Egypt. The site was formed millions of years ago when the area was still covered by the ocean. As the waters began to recede, it carved out large portions of the Earth. As it became deeper and deeper, prehistoric rock and earth were exposed. The bottom of the crater houses exposed rock that is over 200 million years old!
Where to Go When Visiting the Ramon Crater?
Because of the increased interest in tourism at the site, the state recently built a new visitors center that offers spectacular views of the site. You can also obtain a wealth of information and history of the site from the staff at the center. The visitors center also houses the Ilan Ramon Memorial, dedicated to Israel's first astronaut Ilan Ramon. Ilan was fascinated by the site and tragically died in the 2003 Colombia Spaceship disaster. When you travel with Noah Tours, you can visit all of these sites. Take a look at our Israel Tour Packages for more information!
What to do in Mitzpe Ramon?
The Ramon Crater is by far the most popular attraction in this area of Israel, but the town is constantly evolving as tourism grows. We highly recommend taking advantage of the new Jeep tours that will drive you around the makhtesh, or checking out the Spice Route Quarter for great cafes and boutique shopping. Additionally, you can visit the Bio Ramon for a glimpse of the rare animals that inhabit the area or take a trip to the alpaca farm, both great for kids. Last but not least, the sunset! The Israeli desert sunsets are truly mesmorizing.
You can visit this incredible site and all of Israel with Noah Tours! Take a look at our Israel Tour Packages and book today.