Old Jaffa, Israel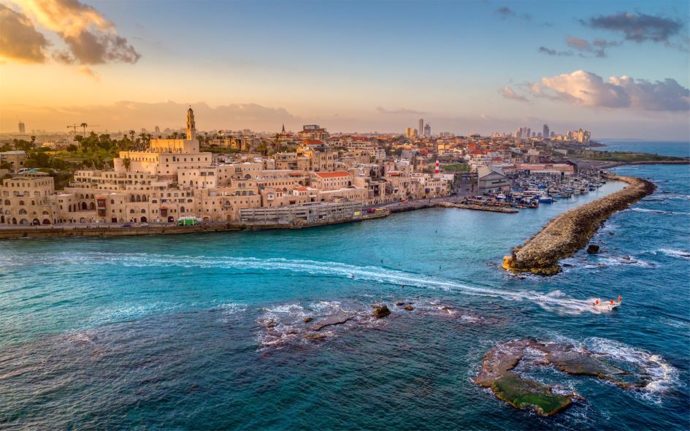 ANCIENT BIBLICAL CITY OF JAFFA
What is Old Jaffa?
Jaffa, located directly south of Tel Aviv, Israel, is an ancient port city dating back to around 2000 BCE, making it one of the oldest recorded ports in the world. Jaffa is mentioned in the bible several times and is likely most famous for its association with the story of Jonah and the whale. Today the city is an extension of the greater Tel Aviv-Jaffa municipality, sharing Tel Aviv's southern border, and a very popular tourist attraction for visitors to Israel. It's a lively and picturesque neighborhood that retains its ancient character and charm and features some of the best Arab cuisine in Tel Aviv. See below for the must-see sites in Jaffa!
The Old City
Walking the Old City of Jaffa is like taking a step back in time. The quaint, cobble alleyways and stone buildings are dreamy and intimate and have a feeling of old world authenticity. In recent years, the area has become a hub for young artists. When you're wandering through, you'll see plenty of Instagram-worthy street art and galleries lining the alleys. The Old City of Jaffa is the best place in Tel Aviv to get a feel of ancient Israel.
The Old Jaffa Flea Market
Locals probably know Jaffa best for it's famous Jaffa Flea Market. The market lines many streets throughout the neighborhood and features an eclectic mix of vendors and merchandise. You can find nearly anything, from antique Judaica to hand made jewelry designed by local artists. Most importantly, don't be afraid to negotiate prices! It's an experience that is uniquely Middle Eastern and can't be missed.
Where to find the best food in Old Jaffa
Whether you're wandering through the historic alleyways of the Old City or on a shopping spree at the Flea Market, be sure to take advantage of the amazing food available in Jaffa. If locals know Jaffa first for the flea market, then they know it second for the food. Well-known for its traditional Arab cooking scene, locals often claim that Jaffa has the best hummus and shakshuka in Tel Aviv. Whether you want a quick bite to eat on the street, or a relaxing dinner, there's plenty to choose from.
Jaffa is included in all of our Israel Tour Packages. Want to experience the magic of Israel for yourself? Contact Noah Tours today for our latest offers!
Other recommended sites in Jaffa:
Old Port of Jaffa
St. Peter's Church
Seaside promenade
Jaffa Beach
The Clock Tower
Ilana Goor Museum