DOLPHIN REEFS
Dolphin Reef Eilat is a Wonderful Chance to Meet Dolphins!
Dolphin Reef Eilat, on the shores of the Red Sea, is an ecological site unique in Israel and throughout the world where visitors can enjoy a natural atmosphere, wonderful views, cosy beach, together with the exciting opportunity of meeting and observing dolphins in their natural habitat. A group of "bottlenose" dolphins, including babies born at the site, provide their daily routine of hunting, playing and socializing. They are free to choose between human company or to continue their daily life in the group. The fact that the dolphins choose to be with people proves the opinion, there is a true conection between them and people. Visitors can enjoy getting close to the dolphins from floating piers and observation points or during one of our guided swims or dives, suitable to anyone who is not afraid of getting wet.
A person who comes to a meeting with a dolphin in a spirit of respect and sensitivity, free of the desire to achieve anything except the encounter itself, will get the most from it: feelings of warmth, power, tranquility, joy...There are several opportunities of communication with dolphins. Snorkeling sessions are conducted in guided groups of maximum three persons with one guide for the group. Everybody wears a mask, snorkel, fins, and wetsuits. Introductory dives are done with full scuba equipment including air tanks. Each participant goes into the water with his, or her own personal instructor...Guided dives with dolphins are available to qualified divers with a logged dive within the last six months and valid insurance. Dives take place in groups of maximum four persons with a guide. Maximum dive depth is 14 meters, and dive time is 30 to 35 minutes...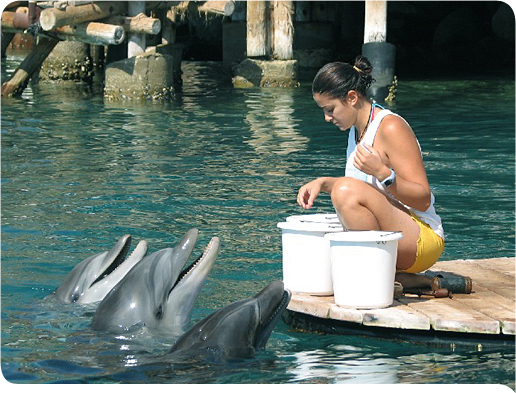 Need more information?

Hello, !

Thank you for your inquiry.
One of our team members will be contacting you within the next business day.
Noah Tours Sales Team
Wrong security code.
Message was not sent.