DAVIDSON CENTER
The Davidson Center
The Davidson Center is situated near the Western Wall in Jerusalem. It is the world of this city's glorious past, showcased through the prism of advanced visualization technology. The center was built into the basement of an eighth-century building. The Concept of this project was to preserve and enhance the remains of the ancient structure in a way that would set it apart from the modern construction. Innovative technology enabled the use of light materials, such as wood, glass and steel, contrasting the massiveness of the ancient stone walls. The descending ramps are constructed of steel and wood, large areas are walled with glass and steel roofs hover above the ancient walls. Following the winding ramp downward, artwork and archaeological finds taking back through the ages. A ten-minute, high-definition digital video ingeniously interchanges the experience of Second Temple pilgrims with that of present-day visitors.
The realization that the historic and spiritual treasures depicted – the Temple Mount, the Western Wall and the Southern Wall – still stand only a few strides away adds to the power of the presentation. The center's highlight is a three-dimensional virtual reconstruction of the Temple, based on ancient writings and excavations. Great number of pictures give participants the magic feeling that they are really walking up the staircase to the Temple and through its towering colonnades to stand before the grandeur of the Holy of Holies.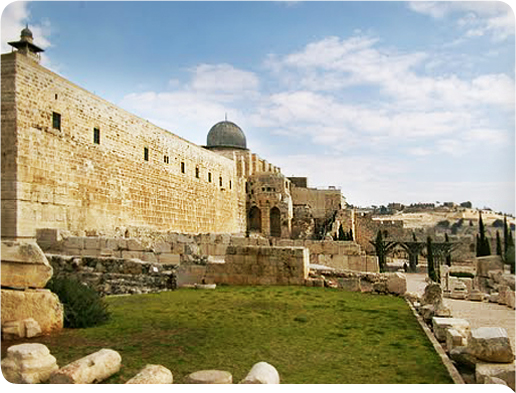 Need more information?

Hello, !

Thank you for your inquiry.
One of our team members will be contacting you within the next business day.
Noah Tours Sales Team
Wrong security code.
Message was not sent.